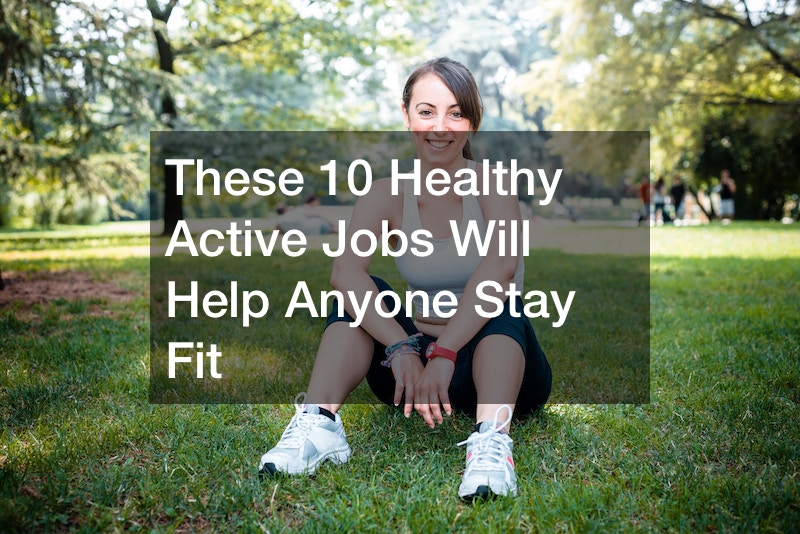 These 10 Healthy Active Jobs Will Help Anyone Stay Fit
If spending eight hours a day at a desk makes you anxious, a physically demanding role better suits you. To help you get started, we've compiled a list of healthy active jobs that combine working out with a regular paycheck. So continue reading if you wish to escape the office's sedentary grind. These are the ten most healthy active jobs in the world.
1. Arborist
As a kid, did you ever climb trees? Most arborists you speak to will tell you that they loved climbing trees and playing in tree houses as children, and if you can convert this into your career, then why not? Being an arborist is wonderful if you love the outdoors, appreciate nature, challenge yourself, and work as part of a team.
According to the BLS, arborists make a median annual salary of $46,970. Taking care of and removing trees takes a lot of strength and endurance. To prune, trim, and provide general tree service, you must use various tools like chainsaws, ropes, and climbing equipment. You will also need to be in excellent physical shape and have exceptional problem-solving abilities and attention to detail.
Working as an arborist has many benefits for your health. Being physically active at work can keep you in shape and good health. Working outdoors in the great outdoors also promotes mental health and reduces stress, in addition to the physical benefits. Arborists can also feel good about contributing to environmental conservation by caring for trees.
2. Landscaper
A career as a landscaper may appeal to you if you appreciate and find fulfillment in working with plants, being outdoors, and doing handy jobs. A landscaper is a person who uses machines and plants to develop and care for green areas in a range of situations. They cut large amounts of grass and trim the foliage using powerful tools like riding or standing lawnmowers and chainsaws. They also use smaller tools like shovels and trowels to plant fresh plants. In many cases, landscapers physically work to make the client's ideas and visions a reality.
But how much do landscapers make? The average pay for a landscaper in the US is $23.46 per hour, according to CareerExplorer. Ordinarily, salaries range from $16.63 to $37.93 per hour.
Landscaping is a dynamic profession. Landscapers rarely stay in one place for a long time because they continuously travel between locations as they accept and complete jobs. This is a fast-paced work atmosphere due to physical exercise and frequent travel. You must be physically healthy enough to tolerate heavy lifting and extended manual labor for almost all tasks. But you will value the opportunity to work outside and exercise regularly.
3. Home Builder
According to Salary Expert, the average gross pay for residential home builders in the United States is $102,698, which equates to a $49.50 hourly wage. Home builders are responsible for constructing homes from the ground up. Doing the job requires much physical effort, such as lugging heavy objects, putting up walls and floors, and climbing ladders. Excellent problem-solving abilities and attention to detail are essential for this position.
There are numerous health advantages to working as a home builder. It's a job that enables you to use your hands and observe the material outcomes of your labor. Additionally, a lot of physical work is involved in building homes, which helps keep you in shape. Home builders also enjoy the gratification of knowing they are helping to provide secure and cozy homes for families.
To work as a home builder, you must be well-versed in building practices and regulations. Many home builders begin their careers as construction laborers and learn on the job. Additionally, some home builders seek certification from specialized associations like the National Association of Home Builders (NAHB).
4. Roofer
Most people probably imagine roofers when they think of healthy active jobs. Roofers put a lot of effort into installing and fixing roofs on homes and structures. The median hourly wage for roofers is $22.13, according to Indeeed.com. Although it might only fit some, the job is fantastic if you want to stay active while earning money.
The physical demands of roofing include moving heavy objects, climbing ladders, and working in uncomfortable positions. Therefore, strength, stamina, and a strong work ethic are necessary. Additional advantages of being a roofer for your health include:
Working outside in the sunshine and fresh air while doing roofer work can lift your spirits and lower your stress levels.
Being outside increases your likelihood of being physically active all day, which is wonderful for your general health.
Roofing is a fantastic cardio workout as it requires a lot of climbing, lifting, and moving around.
You can develop strength and endurance thanks to the job's physical demands.
Your strong work ethic and attention to precision will also improve you as a roofer, which will help you in other aspects of your life. However, putting workplace safety first is crucial because roofing can only be safe if you take the right safety measures.
5. Tile Roofer
Have you considered a career as a tile roofer? This occupation entails building and fixing concrete or clay tile roofs, and it can be a terrific way to stay active while earning a good income. A tile roofer makes, on average, $19.20 per hour, according to PayScale.
Tile roofers may work in residential and commercial structures and on building projects. Often, roofers are in charge of the entire roofing process, from examining a roof for wear or damage to locating materials and finishing repairs. They also discuss plans and confirm dates, pricing, and the work's scope with clients.
The physical demands of tile roofing include moving large tiles, climbing ladders, and working in uncomfortable positions. But there are many advantages for your health as well. Working outside in the sunshine and fresh air can improve your mood and lower your stress levels, while the job's physical demands provide your upper body and core with a wonderful workout.
Besides the health advantages, becoming a tile roofer can be fulfilling. Every day, as you contribute to the weatherproofing of homes and other structures, you'll enjoy the fruits of your labor. Become a tile roofer if you're seeking healthy, active jobs that will keep you happy and active.
6. Fence Installer
Fence installation might not be the first job that comes to mind when you think about staying active and healthy, but it's a great option if you're looking for a job that involves physical activity. Fence installation and repair need a lot of physical labor. The Bureau of Labor Statistics reports that fence installers make $13.86 per hour.
Your health will benefit significantly from working as a fence installer. First, since the work requires a lot of lifting, digging, and movement throughout the day, it's a wonderful way to stay active. This exercise can enhance your general health and even lift your mood. You will also be working outside, which is an excellent method to reduce stress and enhance your well-being.
You'll be able to work on various projects. You can install a sophisticated security fence for a company or build a short picket fence for a backyard. Doing various tasks can be fun and challenging, which can be fantastic for job satisfaction. You'll also operate as a team with other experts like contractors, landscapers, and architects. The sense of camaraderie and cooperation that can result from this can make work even more satisfying.
7. Window Technician
A career as a window technician may be ideal for you if you like working with your hands and are seeking a profession that requires exercise. You'll be responsible for installation, repair, and window replacement in residences and commercial buildings. Lifting and lugging big windows, mounting ladders, and working in odd positions are all part of the physical labor required for this job. As of March 28, 2023, Salary.com reports that the average window installer's salary in the United States is $51,677; however, the income range frequently varies from $42,625 to $64,058.
The physical benefits of working as a window technician are numerous. You can work outside and keep active all day long, just as with the other careers on this list. This may be highly beneficial for people who work at desk jobs or spend most of their time sitting down.
Additionally, lifting large objects is common for window technicians, and overwork can help you gain more stamina and strength. Balance and flexibility are also needed when working in odd positions and climbing ladders, which can enhance your general fitness. You'll need specific abilities and information to succeed as a window technician.
You'll need to understand how to correctly measure, cut, and install glass.
You should be well-versed in the many window categories and the parts that make them up.
Since you'll interact with clients and other experts daily, practical communication skills are just as essential as technical ones.
Problem-solving abilities are also crucial because you must address difficulties that develop over a project.
With the right skills and training, you can work physically demanding and cognitively challenging, healthy active jobs while enhancing homes and businesses' security, comfort, and energy efficiency.
8. Chimney Contractor
Any home that uses a fireplace or wood burner for heating needs chimneys. Inspecting, maintaining, and cleaning chimneys fall under the purview of a chimney contractor. Additionally, if necessary, they can rebuild chimneys or install new ones. According to ZipRecruiter, the average yearly compensation for chimney contractors is $41,853.
As a chimney contractor, it will be your duty to ensure that the chimneys of your clients are secure and functional. As you'll be working in tiny places, this job requires physical stamina, but it also gives you a chance to exercise and think creatively to solve complicated challenges. You'll be able to identify and address problems like creosote buildup, obstructions, and broken flues, helping to avoid chimney fires and carbon monoxide poisoning.
The demand for competent chimney contractors will rise due to the importance of appropriate chimney maintenance and the rising demand for alternative heating sources. It gives individuals working in the industry a secure future. This is excellent news if you are considering a career in chimney repair because it provides mental and physical gratification, work stability, and advancement possibilities.
9. Garden Supply Store Worker
A job in a garden supply store may be ideal if you have a green thumb and enjoy working with plants and gardening equipment. Plants, seeds, fertilizer, tools, and outdoor décor are just a few gardening supplies sold in garden supply businesses. As a staff member at a garden supply business, you'll assist customers with finding the products they require and provide gardening assistance.
The physical demands of working in a garden supply business include lifting and carrying heavy bags of soil and plants and standing for extended periods. This can be a terrific way to be healthy and active while also taking advantage of being outside and in nature. The job outlook for workers at garden supply businesses is stable for the foreseeable future, given that gardening is still popular for people of all ages. Working in a garden supply business could be a rewarding and exciting career choice if you have a passion for gardening and enjoy working in healthy active jobs.
10. Auto Glass Technician
Auto glass specialists are crucial to maintaining driver safety on the road. As an auto glass technician, you'll fix or change cracked windshields, windows, and mirrors on cars and other vehicles. Technical expertise, attention to detail, physical agility, and the capacity to work in various environments are all necessary for this position.
Working in an auto glass repair garage can involve physical activity that contributes to a person's fitness. As an auto glass technician, you may spend most of your time on your feet, pacing the garage in search of supplies, working on vehicles, and tidying up your workspace. To reach specific regions of the car, you have to work in unusual positions, like bending or reaching while lifting large windshields and other auto parts. This physical activity can improve strength, flexibility, and overall fitness levels.
However, mending glass is only one aspect of being an auto glass technician. Additionally, you'll get to speak with clients and guide them through getting their vehicles back on the road. This can be a satisfying experience, especially if you help soothe a client's anxiety following an accident or unforeseen damage.
Having healthy active jobs might be one of the many strategies to keep active and maintain a healthy lifestyle. The ten healthy active jobs mentioned above offer possibilities to be active and healthy in addition to being a source of income. Numerous professions, ranging from gardening to construction jobs, provide a balance of physical activity and fulfillment at work. Whether you're considering a career shift or just beginning your professional career, consider one of these healthy active jobs as a method to maintain your health and fitness while earning a living.